About Us
Welcome to the Law Clinic Mahikeng at the campus in Mahikeng. At the Clinic we are committed to providing quality legal assistance to the community, primarily to indigent people who qualify for free legal assistance. This service is combined with practical legal training of students, who are empowered to apply their acquired legal skills. We have five permanent staff members, three interns, three candidate attorneys and one administrative support staff member. All staff are committed to the promotion of human rights and access to justice.
Mr S Rasikhalela
Director – Law Clinic Mahikeng
This specialised unit is principally responsible for our community service and outreach programme.
Through the Clinical Legal Education Programme, the Clinic provides free legal aid to indigent people in the communities surrounding Mahikeng and offers professional and technical assistance to paralegal offices and advice centres in the province. The Clinic also trains candidate attorneys in preparation for the Attorneys Board Examination and for admission as attorneys. As a service to the public, the Clinic holds seminars and workshops on cutting-edge legal issues and participates in radio talk shows and public media educational programmes.
Law Clinic Mahikeng highlights:
Since 2007, the Clinic has produced 14 admitted attorneys, 10 of whom are women.
Our joint partnerships with different stakeholders to instil a culture of human rights in our communities through workshops and radio talk shows.
Projects
Sanitary pad campaign
Date 06/04/17
Topic: Sanitary pad campaign
Venue: Tutuzela Care/ Rape Crisis Centre
On 6 April 2017, the Law Clinic Mahikeng donated close to 100 packets of sanitary pads to the Tutuzela Care/Rape Crisis Centre.
The centres are a critical part of South Africa's anti-rape strategy, aiming to reduce secondary trauma of rape survivors, improve perpetrator conviction rates and reduce the lead time for finalising cases. The Thuthuzela centres operate in public hospitals in communities where the incidence of rape is particularly high, and are linked to the Sexual Offences Courts. As part of the strategy, a specialised Sexual Offences Court is staffed by a committed team of prosecutors, social workers, investigating officers, magistrates, health professionals and police, and located  close to the Thuthuzela Centre.
The Clinic provides care parcels to the rape survivors; these parcels include toiletries and basic necessities. The sanitary pads collected will be included in these parcels.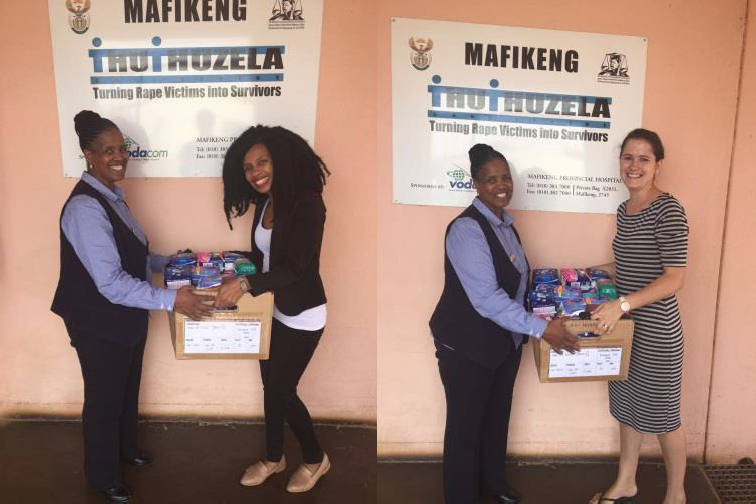 Contact Us
Postal address:
Private Bag X2046
Mmabatho
2735
Physical address:
Cnr Dr Albert Luthuli & University Drive
Office Number G118
Block A2B, Base building
Mmabatho
2735
Contact number: +27 (018) 389 2595 / 2314
Fax: +27 (018) 389 2596
E-mail address: Law-Clinic-Mafikeng@nwu.ac.za
Facebook: https://www.facebook.com/NWULawClinic/